Clean out the clutter: The first step to higher productivity
By Avril Baxter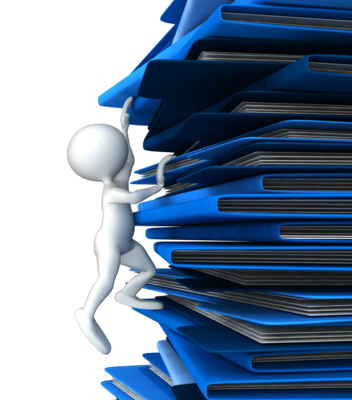 Never underestimate the impact that clutter has on your productivity!
By clutter I mean both physical and digital information that you and your employees are exposed to while you work… emails left in your inbox… piles of papers, folders and objects around you that have yet to be dealt with or filed… hundreds of digital files and folders that you trawl through every day to find information you actually need.
This is a familiar scenario for so many businesses… but at what cost?
According to a Wall Street Journal Survey, the average worker spends six weeks per year looking for information they already have. It all adds up… five minutes spent trying to find that client folder… 10 minutes scrolling through hundreds of emails to find a specific one… 20 minutes flicking through papers, filing cabinets and digital files looking for a copy of a much needed document. Six weeks per person!
And it's getting worse. With email volumes increasing every year, coupled with the rapid rise in other communication methods such as instant messaging and online networks like Twitter, LinkedIn and Facebook, the world is dealing with information overload never before experienced in history.
And yet most of it is simply just clutter… stuff read or kept 'just in case', but only a small proportion of it is useful in achieving our high priority goals… the goals that make a real difference to our performance, success and life enjoyment. Microsoft did some research in the US that showed 85% of information kept in hard copy files or digital files will never be retrieved again. So we spend six weeks trawling through the 85% trying to find the important 15%.
When productivity suffers, so does the bottom line. Imagine what you could achieve – both professionally and personally – if you and every one of your employees could significantly reduce those six weeks of inefficiency and ineffectiveness!
Much of my time is spent helping people in organisations overcome this drag on productivity and I find most people have work habits they need to change and adopt to sustain high performance and life-work balance. Nonetheless, you can make a big, immediate difference simply by clearing out the clutter you already have.
This is a great time of year to dedicate a solid day or more clean out your inbox, unsubscribe from distracting and unnecessary emails, purge and prune all your hard copy files, clean up your office area, review your filing system to maximise speed and efficiency, and throw out or archive information you simply don't need around you anymore.
So get your confidential recycling wheelie bins ready and clear the decks to help make way for a productive year ahead!
Leave a comment...
Please sign in and leave your comments.